---
ROBERT CRAIS: REVIEWS - THE FIRST RULE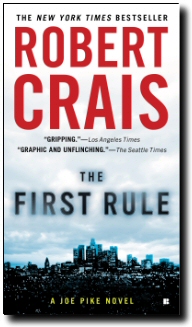 THE FIRST RULE
Reviewer reactions for THE FIRST RULE are coming in. They speak for themselves:
"Is it possible for a crime novel to be both ultra- violent and elegant? If so, then Robert Crais' THE FIRST RULE is a prime example. The mayhem is graphic and unflinching, but the prose and storyline are as sleek and efficient as a beautifully crafted piece of storytelling should be."
--Seattle Times, Adam Woog

"Crais' skills at a full-throttle thriller, previously displayed in such notable standalone works as DEMOLITION ANGEL and THE TWO MINUTE RULE, are in full force here. Action, exposition and dialogue merge seamlessly while propelling the story forward at a steadily increasing speed. It used to be that Crais fans had only to wonder if his newest work was a Cole novel or not. Now, Pike is securely in the mix. Talk about your delightful dilemmas."
--Bookgasm, Alan Cranis
"Excellently plotted. A high octane thriller as well as an insightful look at loyalty, friendship and unconditional love."
-Sun Sentinel, Oline Cogdill
"An adrenaline rush of a novel that's got the laconic verve of Lee Child's thrillers and the plot surprises of Michael Connolly's mysteries."
--SmartMoney
"Ah, the twist. The twist gives the book heart, the twist made me cry at the end. The twist makes this a classic Robert Crais novel and a marvelous Joe Pike story. I won't spoil it for any of you, since I got an advanced copy. But let me simply say this spare book with its emotionally reserved main character is one of the most moving novels I've read this year."
--Kristine Kathryn Rusch

For the complete text of Ms. Rusch's review, please click here.


"In Joe Pike, Robert Crais has created a complex, compelling character, who in the hands of a lesser writer would reflect a flat stereotype of the silent, menacing killer found in B-grade action films. Crais avoids that hazard by investing Pike with depth, intelligence and a fullness of character that makes him both believable and, while still scary, approachable. In The First Rule, Crais's latest exploration of Southern California's darker recesses, we learn of the effects that violence has on even those who would aspire to a moral life. Friedrich Nietzsche famously warned, "Battle not with monsters, lest ye become a monster, and if you gaze into the abyss, the abyss gazes also into you." Joe Pike has gazed into the abyss and has paid a price, but he is also a deeply moral character, one whose view of justice is not limited to a list of statutes or the pages of law books. I like this flawed but deeply human character, and I value the lucid storytelling that Crais brings to his novels. It takes tremendous skill to create the appearance of effortlessness that his writing evinces. The highest praise I can give a novel is that I read it in a single sitting. That was the case with The First Rule. Highly recommended."
--Terry Hertzler

For the complete text of Mr. Hertzler's review, please click here.


From Corey Wilde/The Drowning Machine:

"As good as THE WATCHMAN was – and it was a winner – THE FIRST RULE outclasses it in every way. Though no one should ever doubt Joe Pike's capacity for violence, that readers can also believe in his capacity for an exquisite tenderness is due to Crais's magical gift for characterization. THE FIRST RULE carries an emotional wallop that resonates long after the last gun is fired."
--Corey Wilde

For the complete text of Corey Wilde's review, please click here.

From Richard Katz, Mystery One Bookstore:

"Mr. Crais is able to take the reader into the darkness of the human condition, yet through his heroes we find morality and humanity. The First Rule is the crime novel as modern literature and shows Mr. Crais at the very top of his game."
--Richard Katz

For the complete text of Mr. Katz's review, please click here.
---