On Sale Now!
A DANGEROUS MAN
Click to order copies.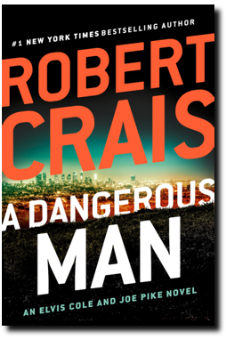 A brilliant new crime novel from the beloved, bestselling, and award-winning master of the genre--and Joe Pike's most perilous case to date.

Joe Pike didn't expect to rescue a woman that day. He went to the bank same as anyone goes to the bank, and returned to his Jeep. So when Isabel Roland, the lonely young teller who helped him, steps out of the bank on her way to lunch, Joe is on hand when two men abduct her. Joe chases them down, and the two men are arrested. But instead of putting the drama to bed, the arrests are only the beginning of the trouble for Joe and Izzy.
"Outstanding. . . Crais begins the story with deceptive simplicity but ratchets up both the tension and the action with surgical precision. The scenes in which Joe saves Isabel from her captors and the final shoot-out among a colorful array of hit men, police, and U.S. Marshals stand as high-water marks among Crais's illustrious crime oeuvre. . . The particular kind of danger [Joe Pike] carries is just plain off the charts. This one's sure to hit the bestseller charts."
--Publishers Weekly (starred review)

"Crais is a whip-smart writer. Cole and Pike are carefully drawn, multilayered characters who've grown more complex through the years. This is one of the very best entries in a long-running and still first-rate series."
--Booklist (starred review)