Elvis and Joe are back! This time they join forces with SUSPECT heroes Scott James and his K9 partner, Maggie, in RC's upcoming novel, THE PROMISE.
US Publication: November 10th!
Check Robert's tour schedule here!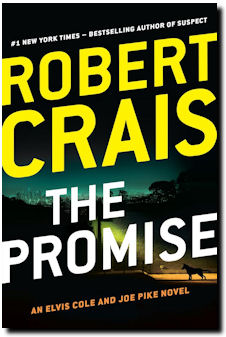 When Elvis Cole is secretly hired to find a missing grief-stricken mother, his first stop on that rainy night is an ordinary house in Echo Park. Only the house is not ordinary, and neither are the people hiding inside: A wanted killer on the run from police and a vicious career criminal with dangerous secrets of his own.

As helicopters swirl overhead, LAPD K9 Officer Scott James and his German shepherd, Maggie, track the fugitive to this same Echo Park house, coming face-to-face with Mr. Rollins, a man who leaves behind a savagely murdered body, enough explosives to destroy the neighborhood, and a disturbing connection to the missing woman. Scott is now the only person who can identify Mr. Rollins, but Mr. Rollins has a rule: Never leave a witness alive.

For all of them, the night is only beginning.

READ MORE.