---
ROBERT CRAIS: DEMOLITION ANGEL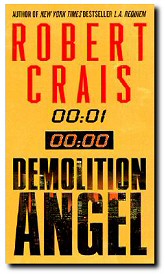 On the heels of the breakthrough bestselling and critically acclaimed L. A. REQUIEM, Robert Crais returns to the City of Angels with the most ambitious novel of his career--a stand-alone thriller featuring a complex and original female protagonist.
Carol Starkey is a survivor--a Los Angeles bomb squad veteran now doing time as a Detective-2 with LAPD's Criminal Conspiracy Section. It has been three years since the detonation that killed her partner and lover, "Sugar" Boudreaux. Sugar saved Carol's life, but couldn't stop two bomb fragments that sliced through her protective Kevlar, leaving her permanently scarred. The emotional fallout from the trauma can only be tempered by a steady diet of Tagamet and gin.
When a seemingly innocuous bomb call takes the life of another colleague, Carol embarks on an investigation of a series of explosions that reveal intentions far more disturbing than one-shot acts of anarchy. They are designed expressly to kill bomb technicians, and as the one tech who got away, Carol is in the fight for her life.
Against the dazzling and lonely backdrop of contemporary Los Angeles, Crais has crafted the most unforgettable female lead character in crime fiction and pitted her against a frighteningly brilliant killer for the modern age.
---