---
ROBERT CRAIS: THE PROMISE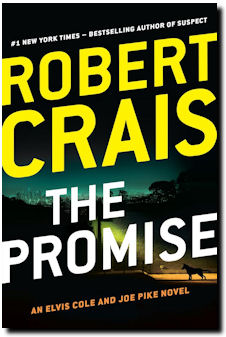 Elvis and Joe are back! This time they join forces with SUSPECT heroes Scott James and his K9 partner, Maggie, in THE PROMISE.


When Elvis Cole is secretly hired to find a missing grief-stricken mother, his first stop on that rainy night is an ordinary house in Echo Park. Only the house is not ordinary, and neither are the people hiding inside: A wanted killer on the run from police and a vicious career criminal with dangerous secrets of his own.

As helicopters swirl overhead, LAPD K9 Officer Scott James and his German shepherd, Maggie, track the fugitive to this same Echo Park house, coming face-to-face with Mr. Rollins, a man who leaves behind a savagely murdered body, enough explosives to destroy the neighborhood, and a disturbing connection to the missing woman. Scott is now the only person who can identify Mr. Rollins, but Mr. Rollins has a rule: Never leave a witness alive.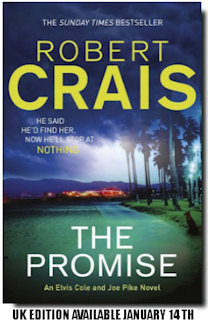 For all of them, the night is only beginning.

Sworn to secrecy by his client, Elvis finds himself targeted by the police even as Scott and Maggie become targets for Mr. Rollins. As the two cases intertwine, Elvis and Joe join forces with Scott and Maggie to battle shadowy arms dealers, corrupt officials, and inner-city gangs with ties to terrorist cells as they follow a trail of lies where no one is who they claim -- and the very woman they promised to save might get them all killed.
---
"One of the most entertaining thrillers of the year… THE PROMISE is filled with suspense, surprises and ably-drawn characters. … The Mystery Writers of America last year honored Crais with its Grand Master Award, putting him in the company of such greats as James Lee Burke, Sue Grafton, Stephen King and Elmore Leonard. THE PROMISE shows once again why he belongs there."
--Patrick Anderson, Washington Post
---
- READ AN INTERVIEW WITH ROBERT.
- READ AN EXCERPT FROM THE PROMISE.
- READ THE ROBERT CRAIS INTERVIEW FROM CRIMESPREE MAGAZINE

Want a signed copy of THE PROMISE
but can't make it to one of RC's events? Click here!
COLLECTORS EDITION
The Mysterious Bookshop has published an extra-special, collectors edition of THE PROMISE. Bound in leather and marbled boards, the numbered edition is limited to only 100 copies. The lettered edition is limited to 26 copies. All copies are signed by RC. Check out the gorgeousness here.
---